COLORADO OUTFITTERS ASSOCIATION
OUTFITTER OF THE YEAR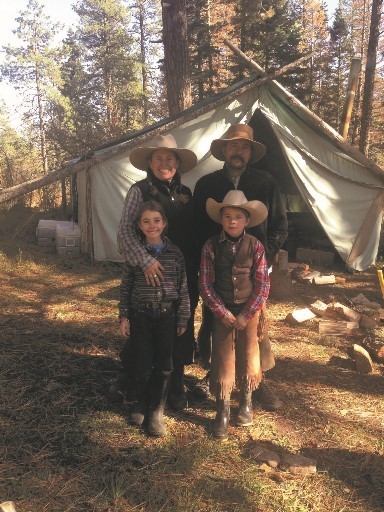 The Colorado Outfitters Association and Consol Energy are proud to announce the winner of the 2014 Outfitter of the Year Award - the husband and wife team of Geoff and Jenny Burbey of Hesperus, Colorado and Highlands Unlimited, Inc.
In the 1980s Jenny came to Colorado from the west coast while Geoff came to Colorado from east of the Mississippi, each to work in the outfitting profession- packing and guiding. As they each worked for various outfitters, gaining experience, they eventually met. Their destinies were confirmed when they became acquainted in a first aid class. Their romance continued into marriage and the realization of their dream when they were able to acquire a Forest Service Permit and begin their own outfitting business, Highlands Unlimited, in 1991.
Highlands Unlimited is truly a family-owned and operated business inasmuch as their three children have been home-schooled and are well versed in outfitting knowledge gained through their own experiences. The Burbey family raises hay, cattle and the draft cross horses used in their outfitting business. For ten years Geoff and Jenny were contracted to clear trails in the San Juan National Forest.
Geoff and Jenny have also represented the Colorado Outfitters Association as a whole when they staffed the COA booth, in addition to their own booth, in Harrisburg, Pa., in February. The thousands of directories that they distributed helped all COA members, by getting our word out to out-of-state travelers.
Longtime COA members and supporters, Geoff and Jenny proudly carry on the traditions, the way of life and the values epitomized by the Colorado Outfitters Association.
Congratulations Burbeys!
From
The Proud Sponsor of the Outfitter of the Year Award